1.1K Views
Thrift Store Christmas: 12 Cute and Easy DIY Decoration Ideas
Do you have a hard time coming up with new and unique ideas for Christmas decor every year? I'm embarking on a thrift store Christmas this year. Using items found at a Goodwill outlet, I am making DIY Christmas decorations.
Follow along for thrift store Christmas decor ideas that will inspire you to complete a thrift store Christmas decor challenge of your own.
Thrift store Christmas decor ideas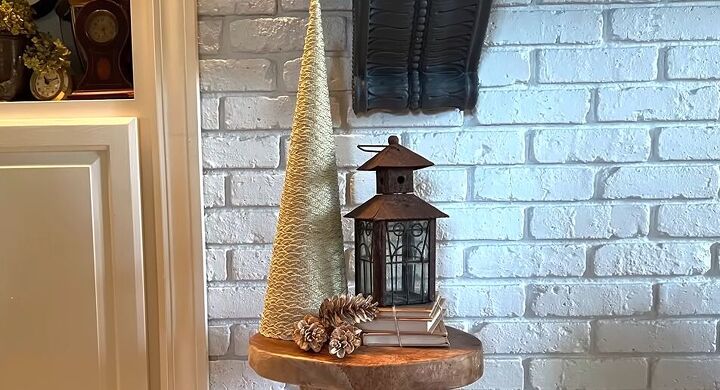 1. Placemat Christmas tree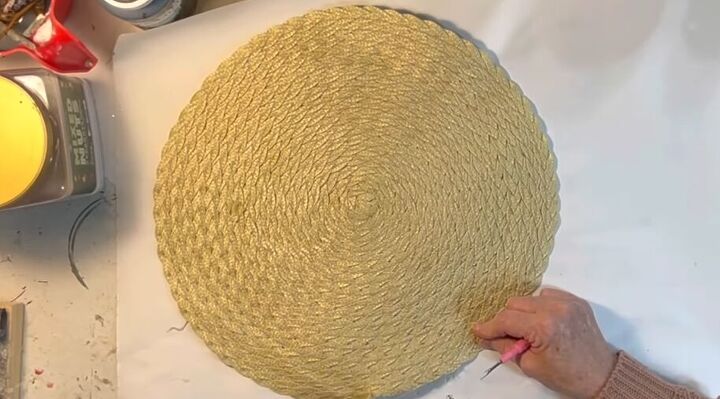 I used a seam ripper to cut the stitching of this placemat.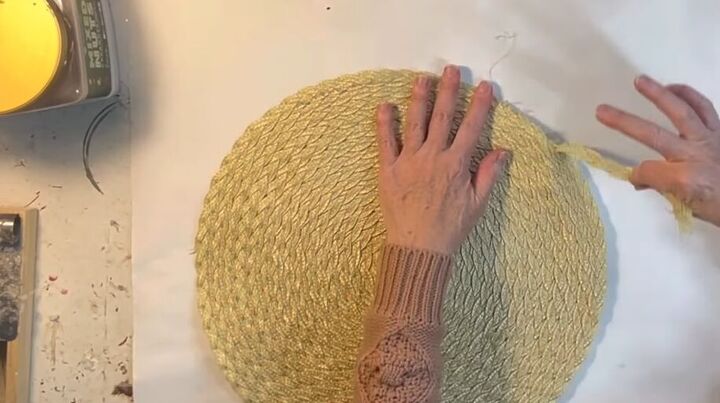 I pulled the placemat apart by hand.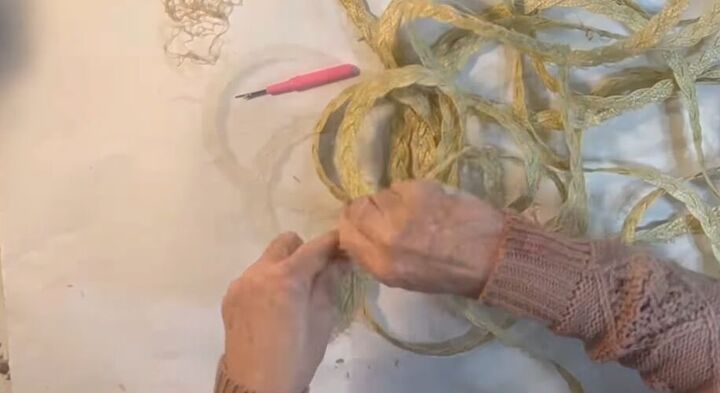 Then, I pulled out all the loose threads.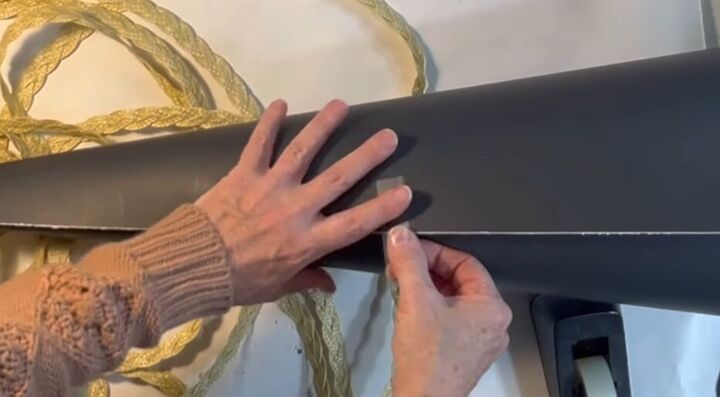 I rolled a poster board into the shape of a cone and then used tape to hold it together.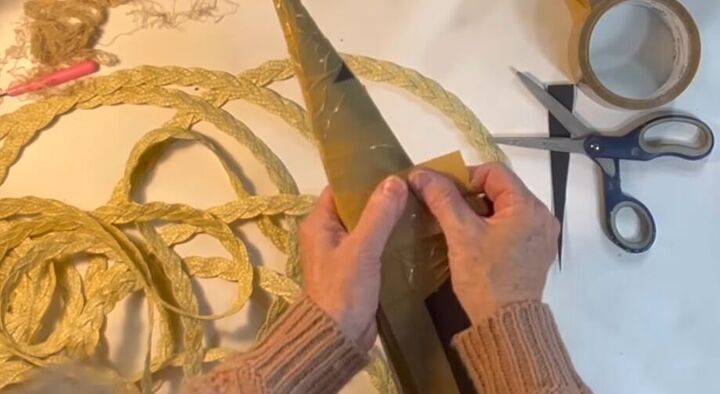 I put packing tape around the top of the cone.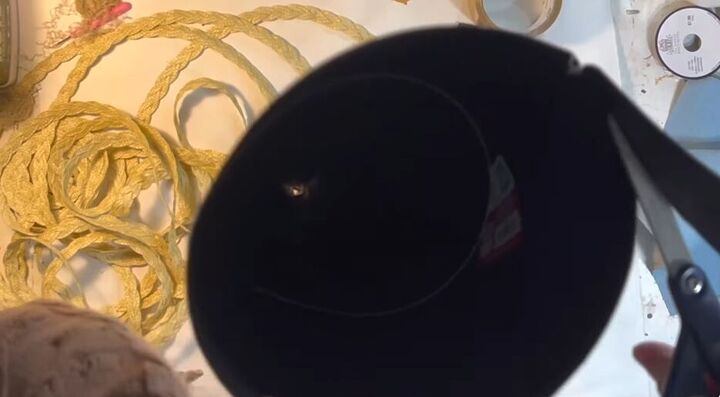 I cut the bottom of the cone to make it stand upright.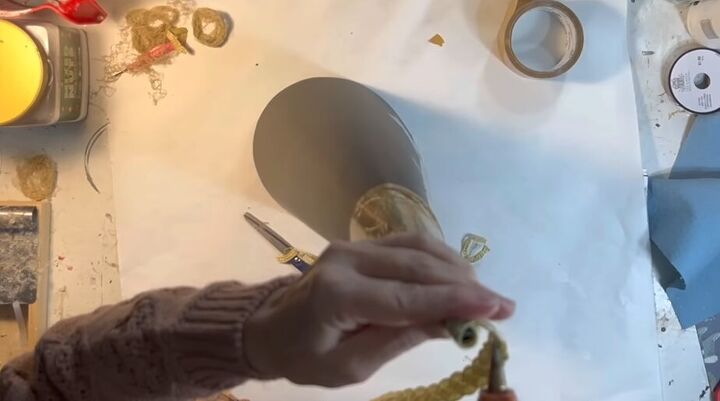 Then, I began adhering the strip of placemat around the cone using hot glue.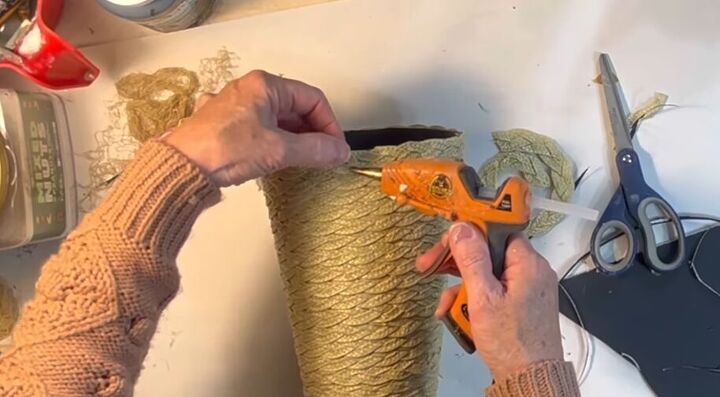 I trimmed off the bottom of the cone to make it a little shorter.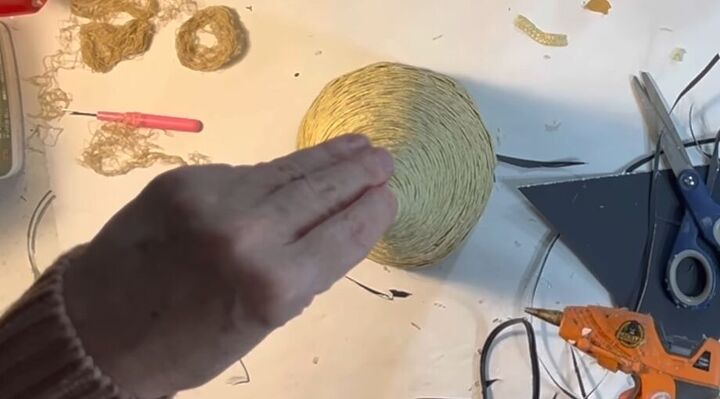 I stuck a small piece of placemat at the top of the cone and hot glued it to make a point.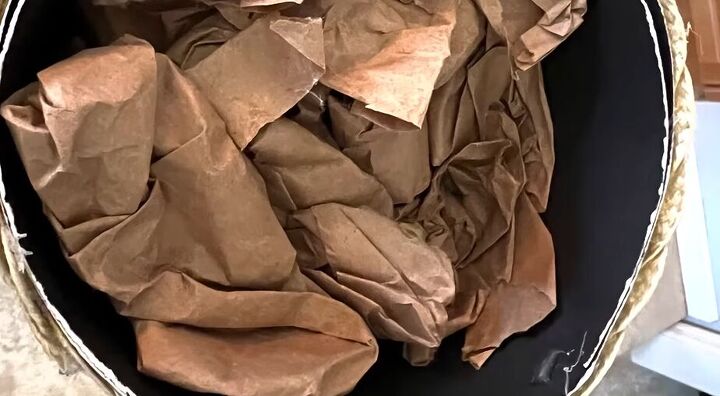 Next, I stuffed the cone with packing paper.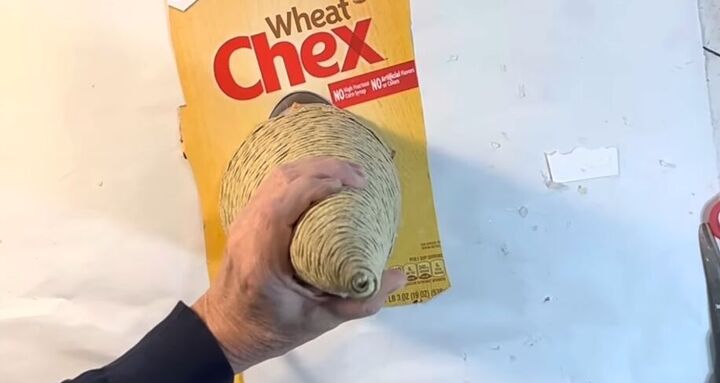 Then, I cut a circle of cardboard from a cereal box and hot glued it to the base.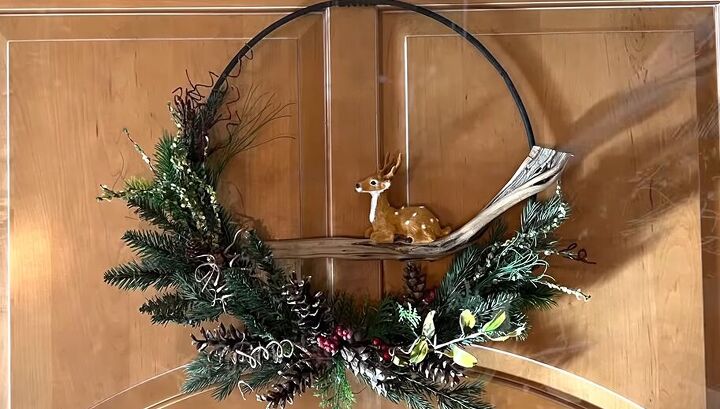 2. Wire ring wreath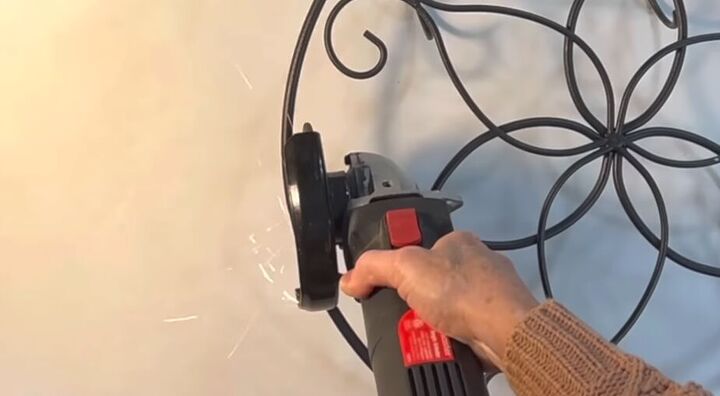 I used my angle grinder to remove the inner piece from the outer ring.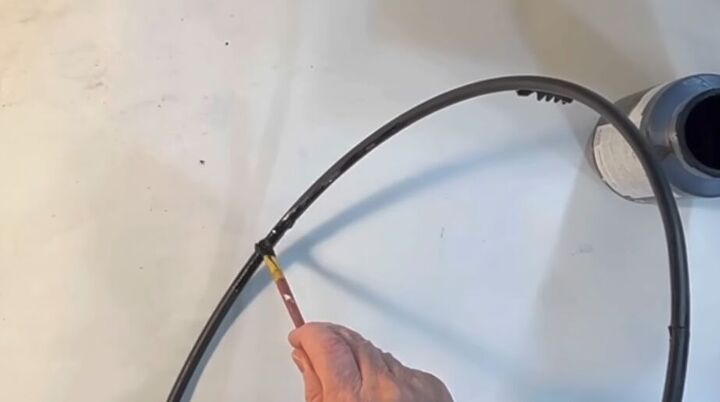 Then, I touched it up with black paint.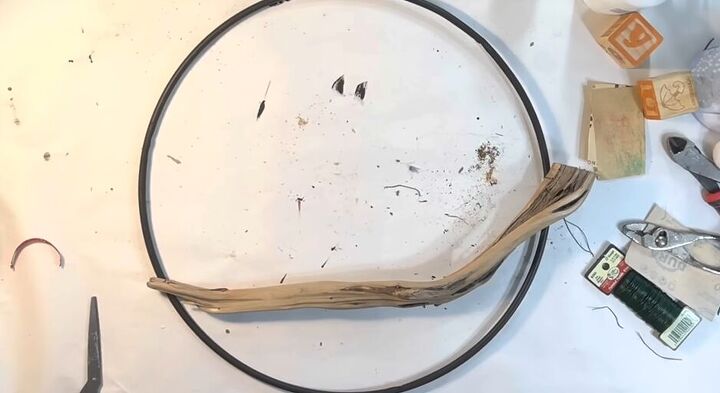 Next, I hot-glued a piece of driftwood to the ring.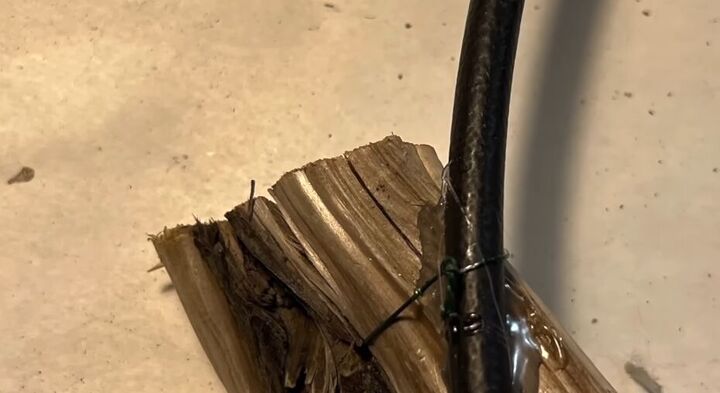 Then, I drilled a hole through each end of the driftwood and ran wire through it.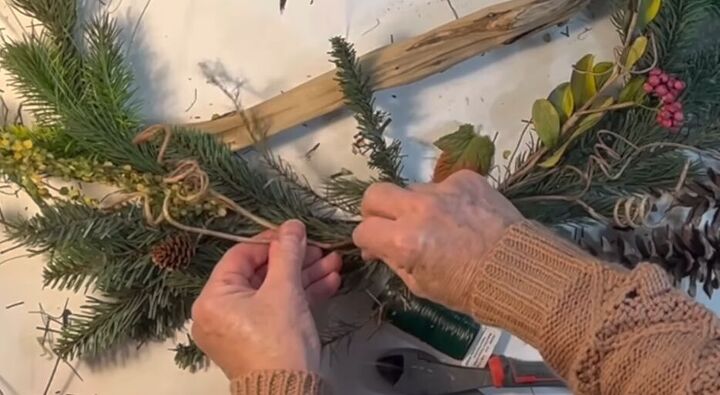 I began wiring faux greenery stems, berries, and curly sticks to the lower half of the wire ring.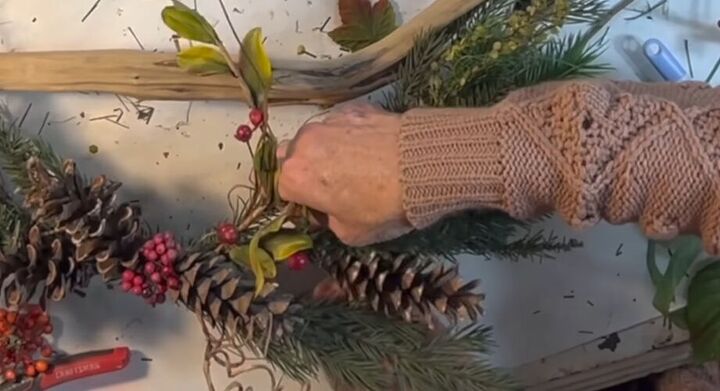 Then, I attached pine cones with floral wire.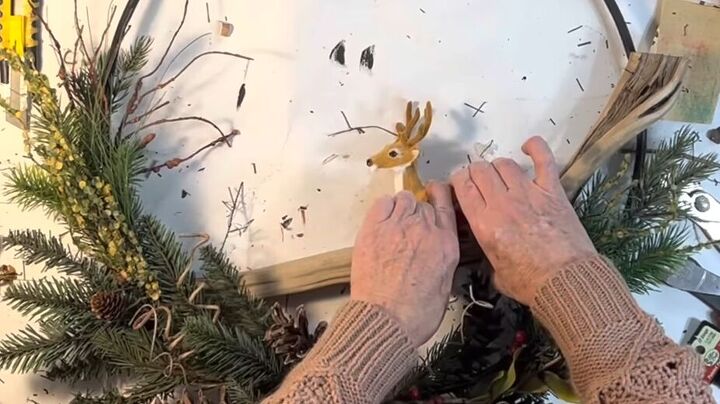 Lastly, I added a small deer.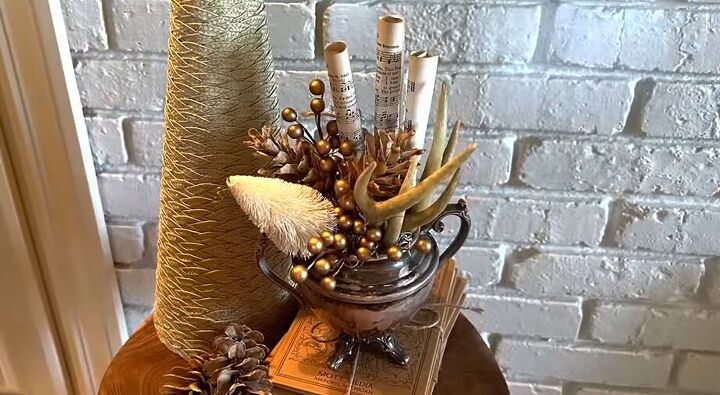 3. Sugar bowl arrangement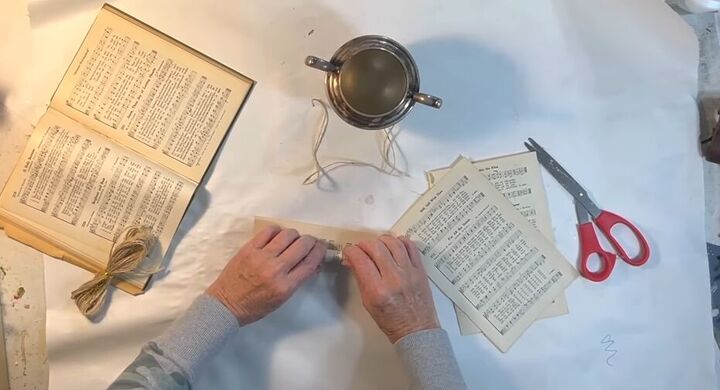 I tore a few pages from a vintage hymnal, rolled up the sheets, tied them with twine, and then put them in the bowl.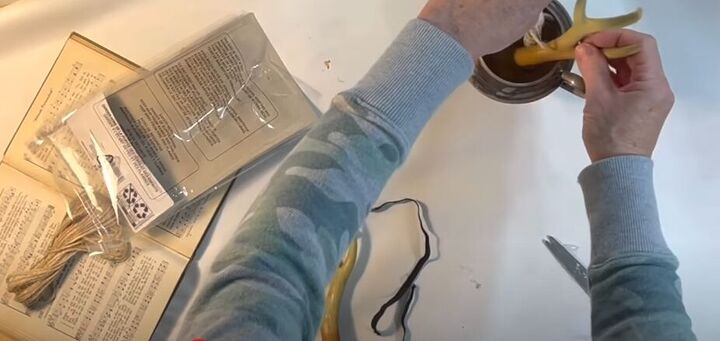 I cut the elastic bands off of some plastic antlers and added them to the bowl.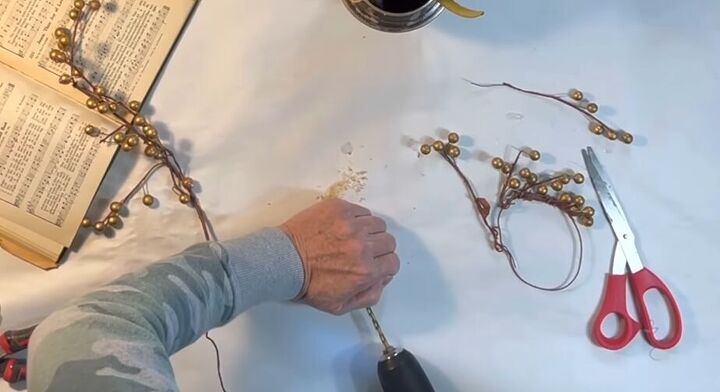 I drilled a small hole in the wood base of a bottle brush tree.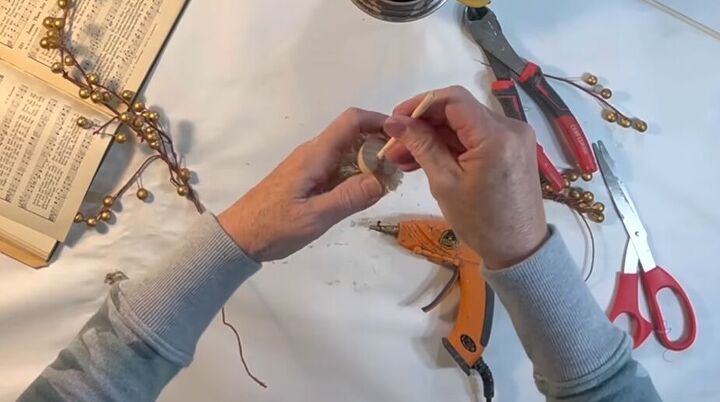 Next, I glued in a small dowel rod.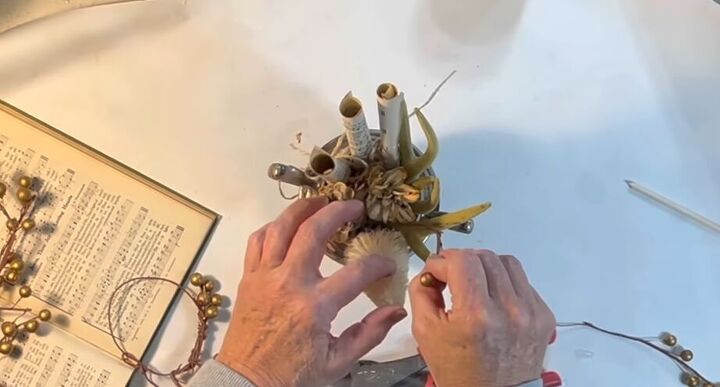 Then, I added pine cones and gold berries.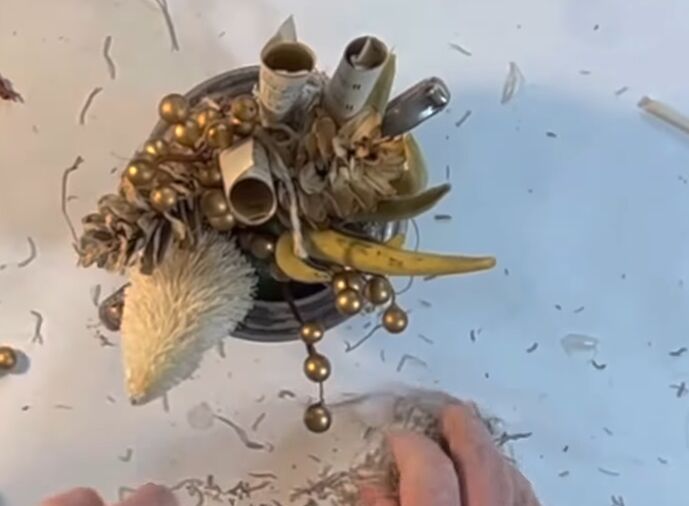 Finally, I filled all the empty spaces with Spanish moss.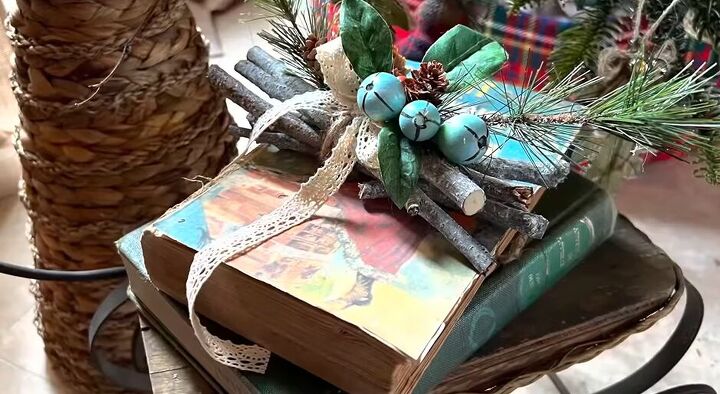 4. Christmas book cover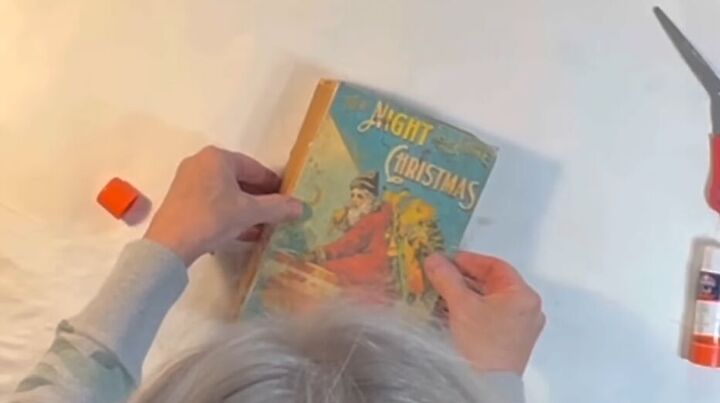 I printed out a vintage Christmas book cover and attached it to an old book using a glue stick.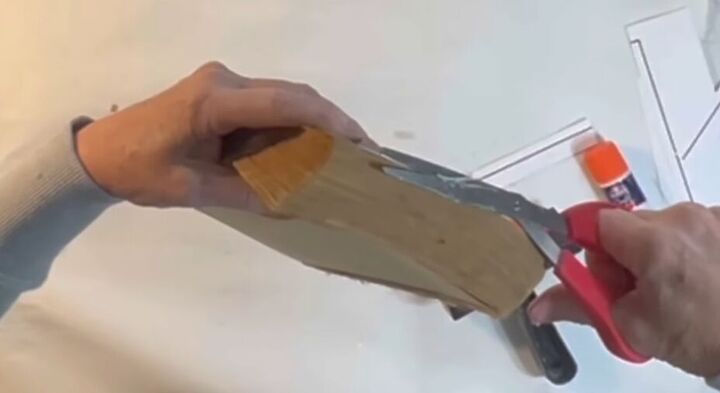 I trimmed up the edges with scissors.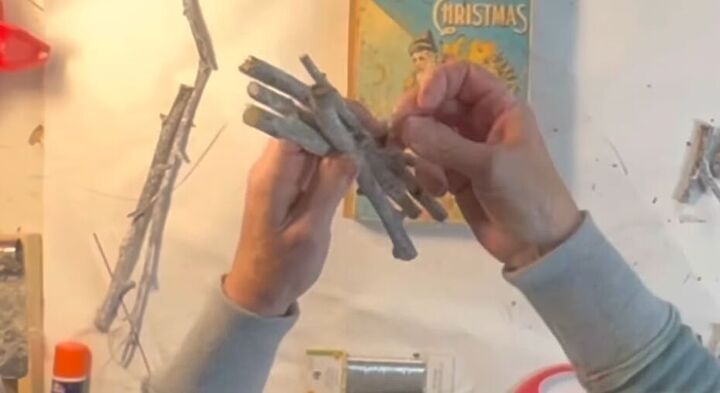 Then, I took some branches from my yard, cut them to length, and wired them together.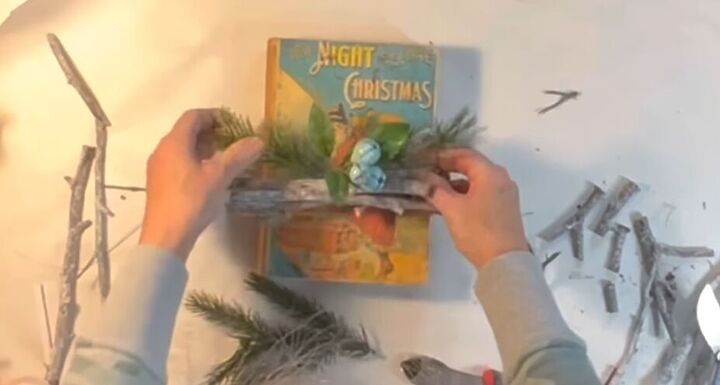 After that, I stuck greenery stems and berries into the wire.
I used twine to attach the stick bundle to the book then hot glued small pine cones and a bow.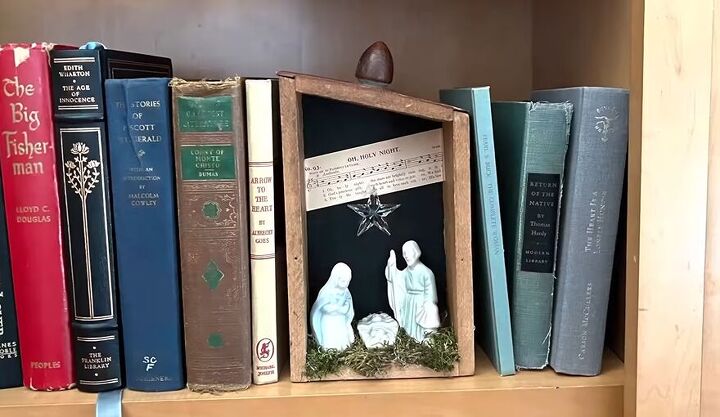 5. Drawer nativity scene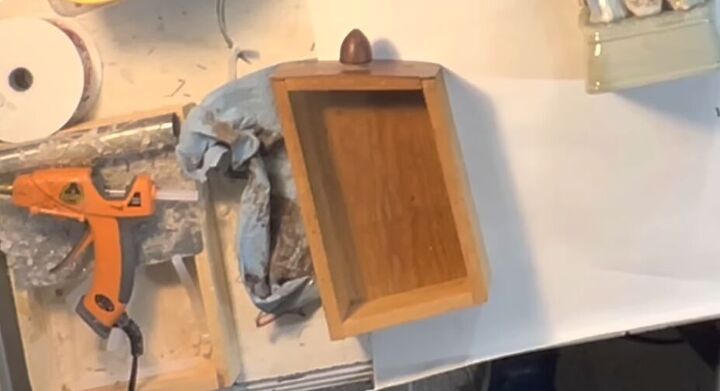 I found a little angled drawer and a broken music box, so I decided to turn them into a nativity scene.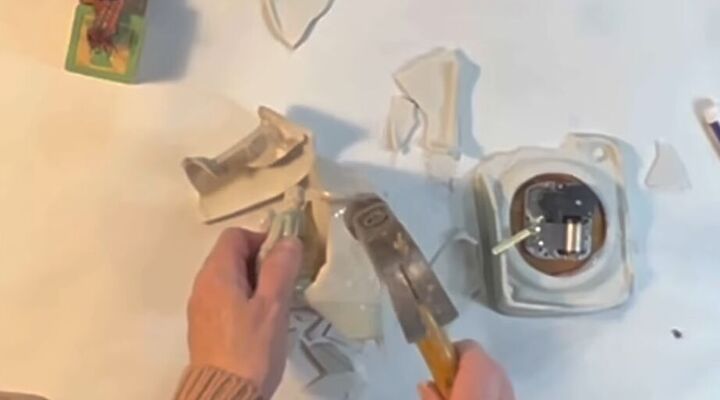 I broke off the ceramic stable so I could use the figurines only.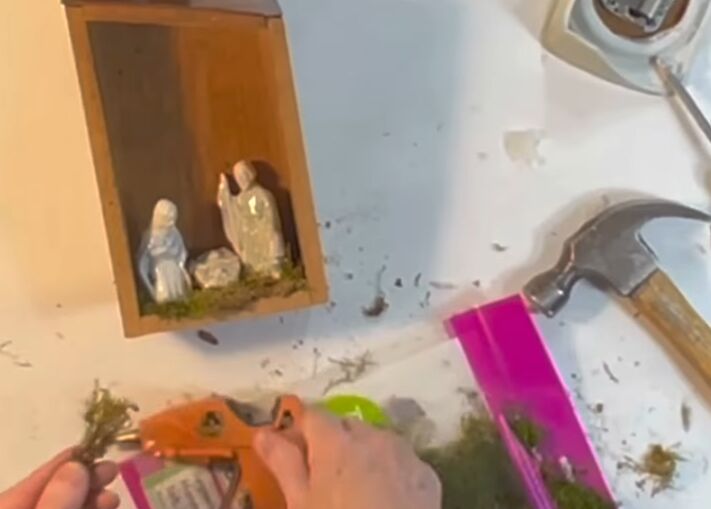 I hot glued Spanish moss around the figurines.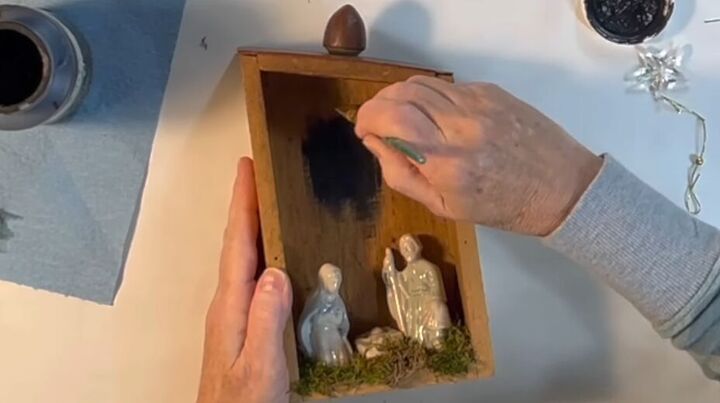 I painted around the figurines.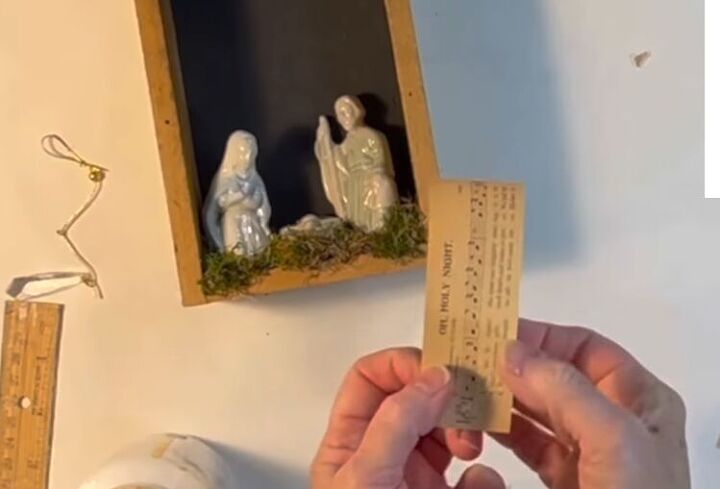 I printed the lyrics to "Old Holy Night," using Mod Podge to adhere it.
Lastly, I glued a small plastic star ornament in the center of the drawer.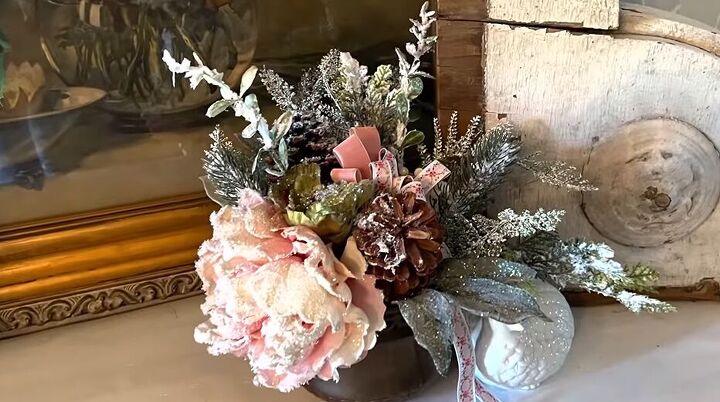 6. Brass flower bowl
I added flowers to the bowl, sprayed them with adhesive, and sprinkled on iridescent glitter.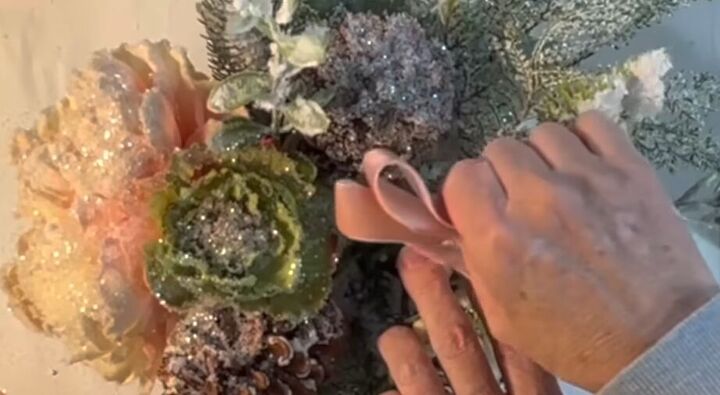 I tied a couple of bows onto skewer sticks and then stuck those into the arrangement as well.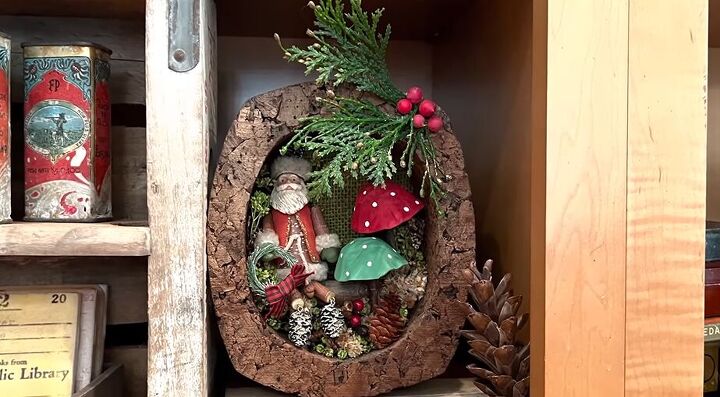 7. Cork Santa scene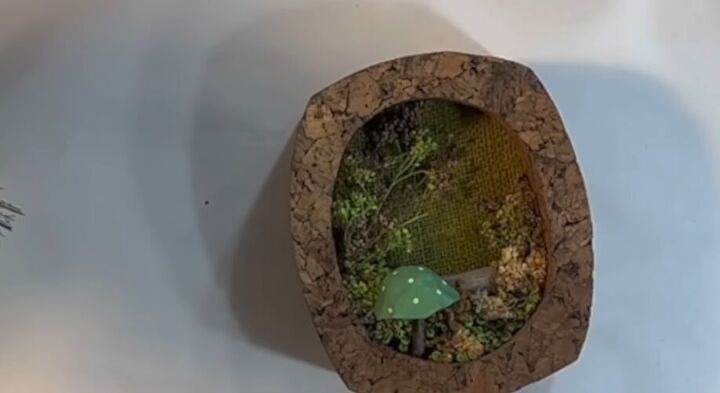 I left in the existing dried flowers and added in my handmade mushrooms.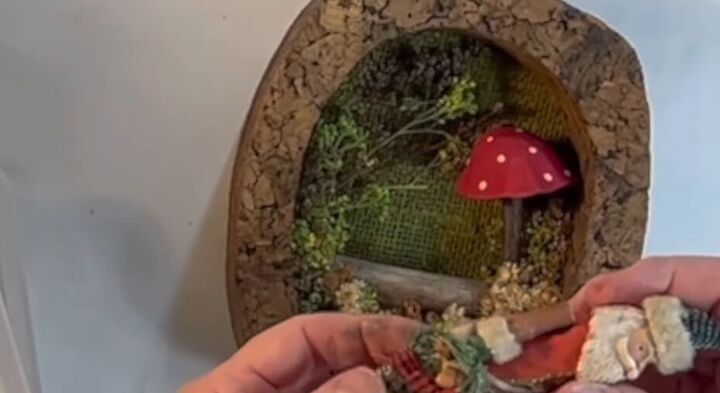 Then, I hot glued a rustic Santa ornament inside the frame.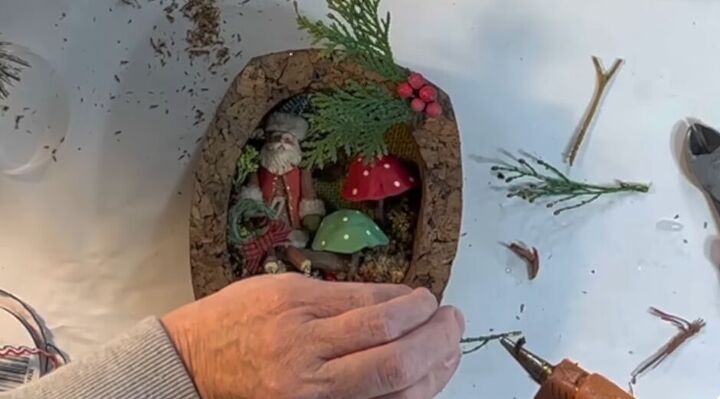 Next, I glued a wooden snowflake to the burlap background and added some berries and greenery to the cork frame itself.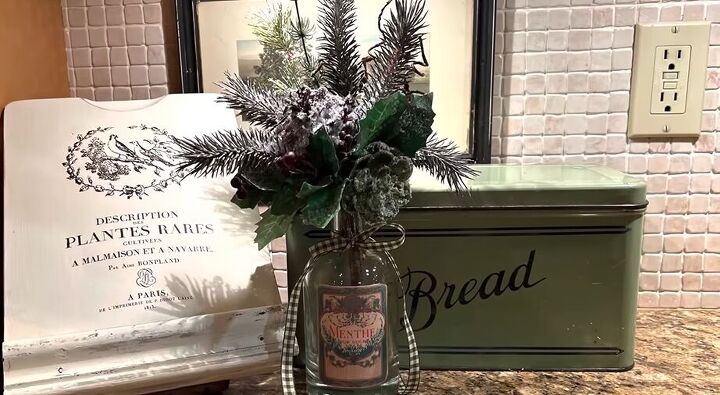 8. Vintage glass vase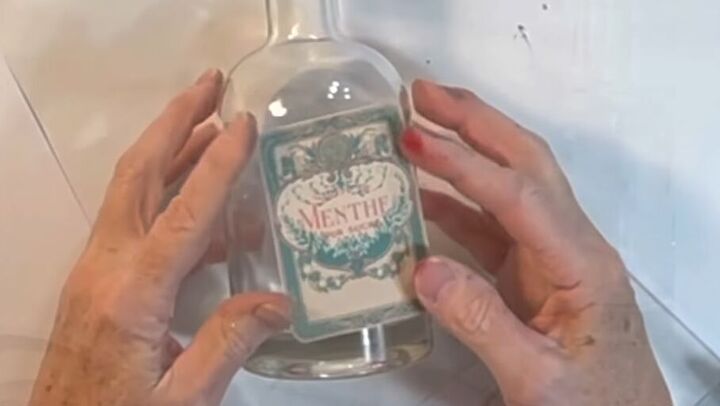 I printed out a green and red mint syrup label and adhered it to the side of the vase with Mod Podge.
Then, I applied a second coat of Mod Podge to protect the label.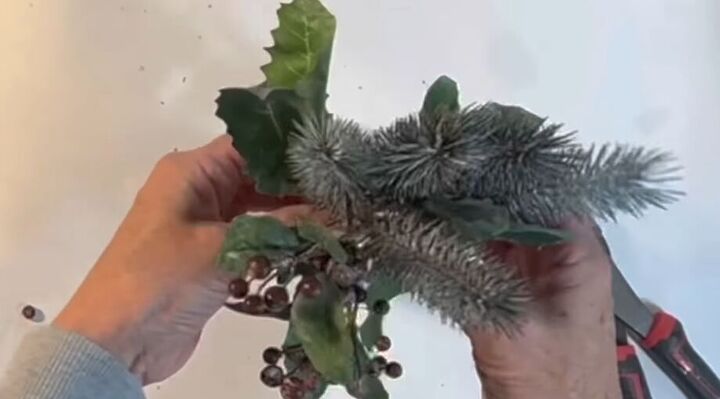 I added in greenery stems sprayed with fake snow.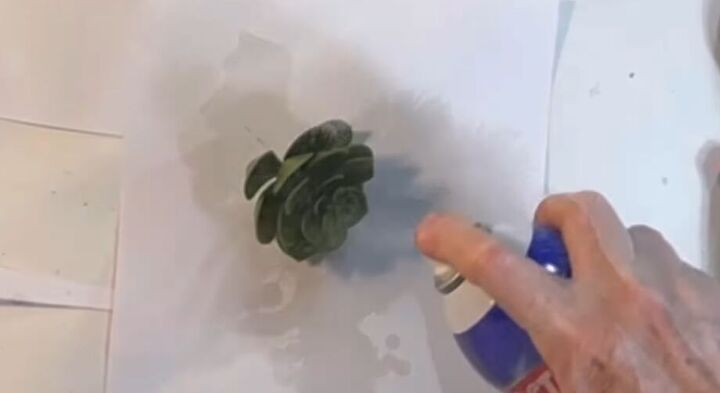 I covered the succulent with spray adhesive and sprinkled Buffalo Snow on it before adding it to the vase.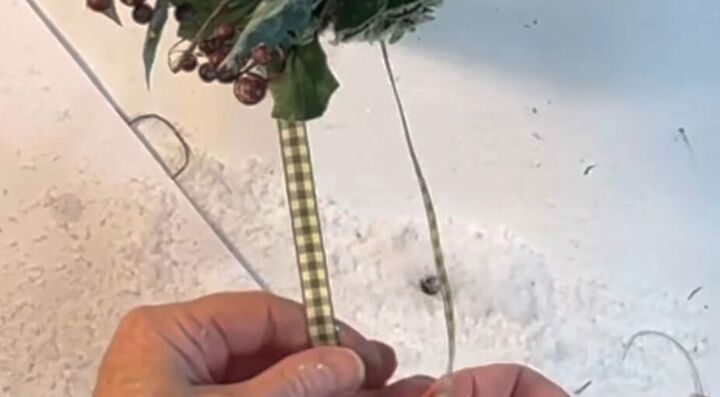 To finish it off, I tied a little ribbon around the neck of the vase.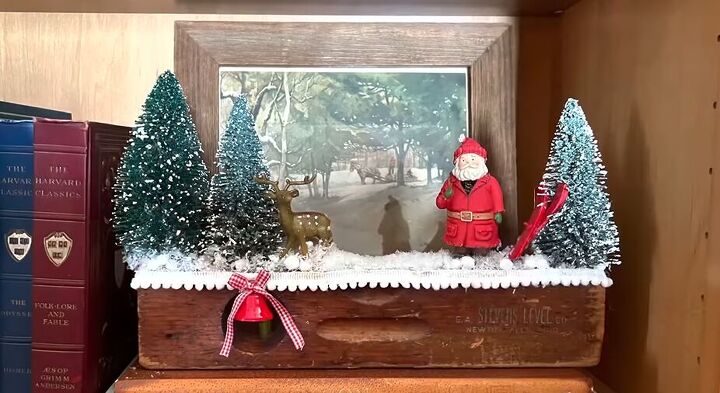 9. Vintage wood level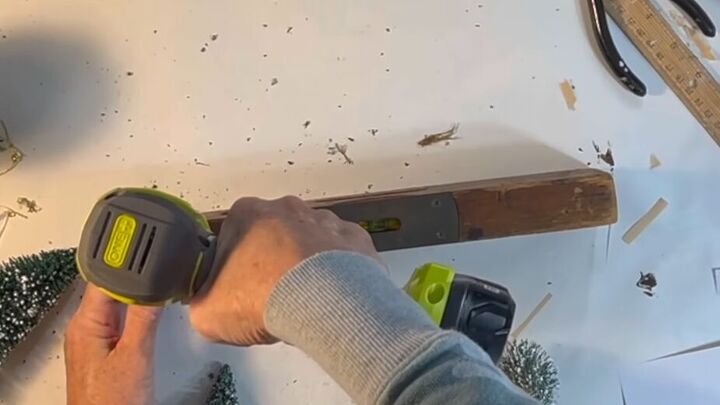 I drilled small holes into the level, removed the bottoms of several bottle brush trees, and inserted the wire ends into the drilled holes.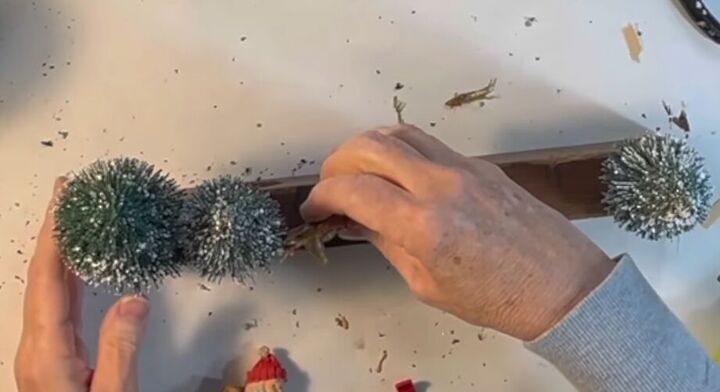 Then, I glued on a plastic deer and some little wood skis.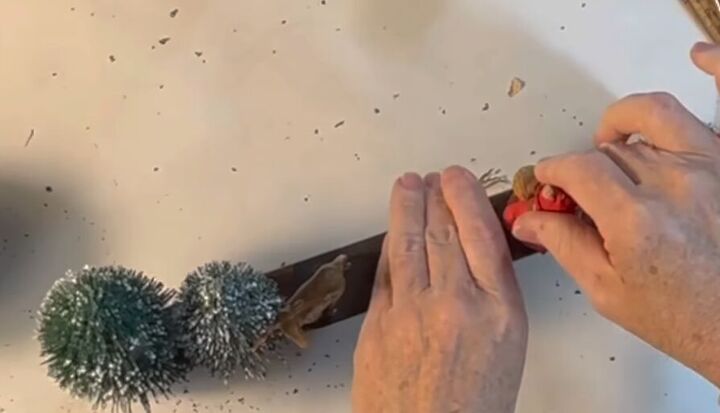 I hot glued a Santa ornament onto the level too.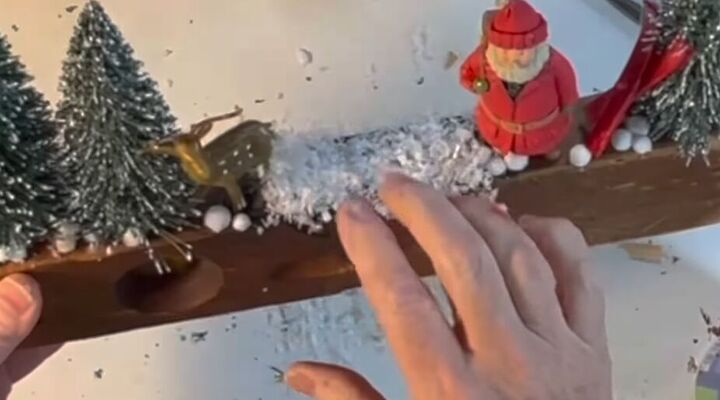 Then, I glued Styrofoam snowballs and fake snow to the top of the level.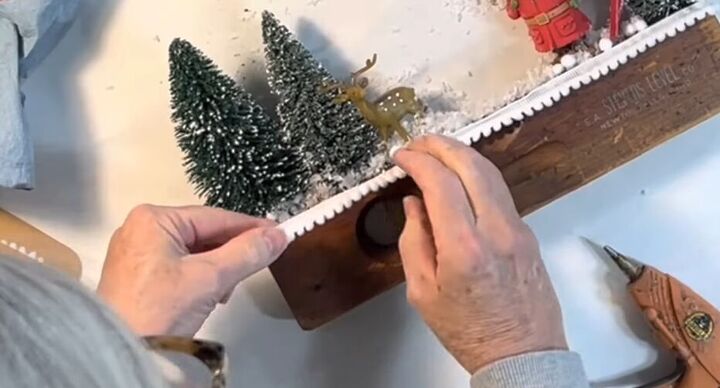 Lastly, I glued a little bell and bow over the hole and pom-pom ribbon along the edge.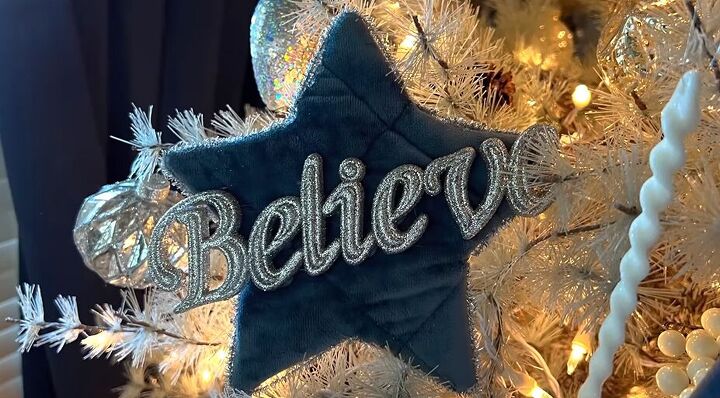 10. Blue velvet star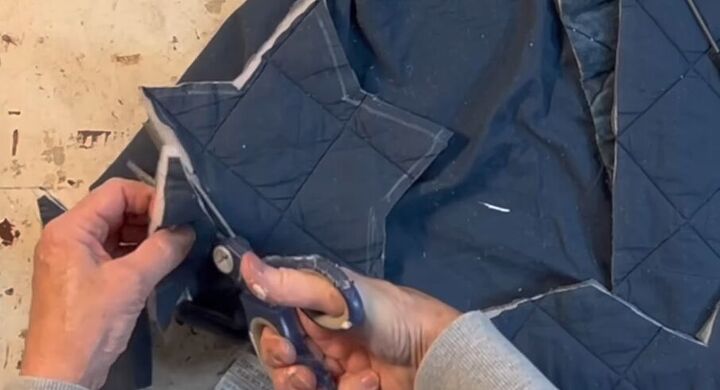 I cut out a star pattern from a piece of foam board, traced it, and then cut out the shape from a blue velvet pillow sham.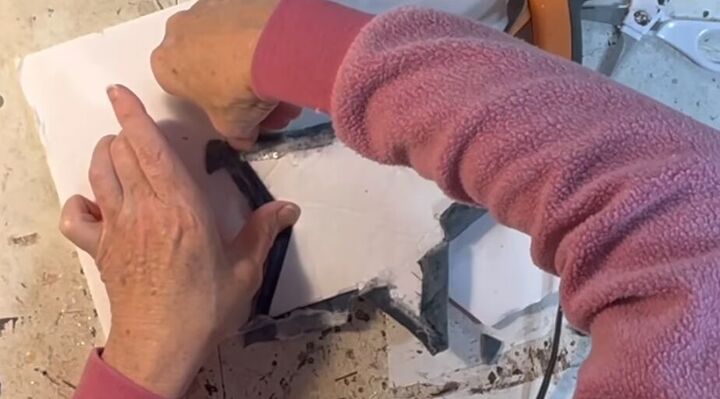 I hot glued foam board to the velvet star, folding the edges over the back, and gluing them in place.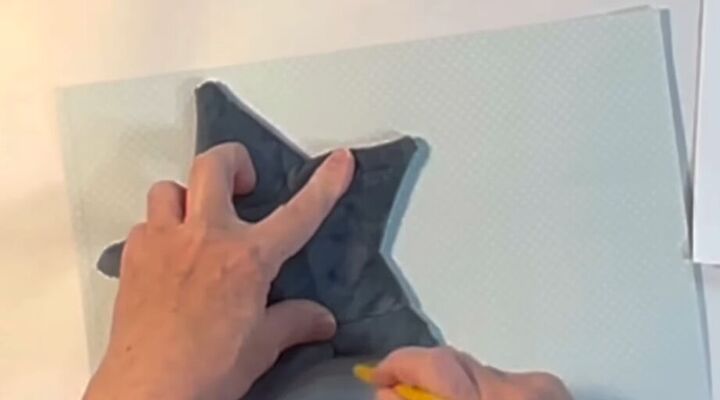 I traced out another star, cut it out, and adhered it.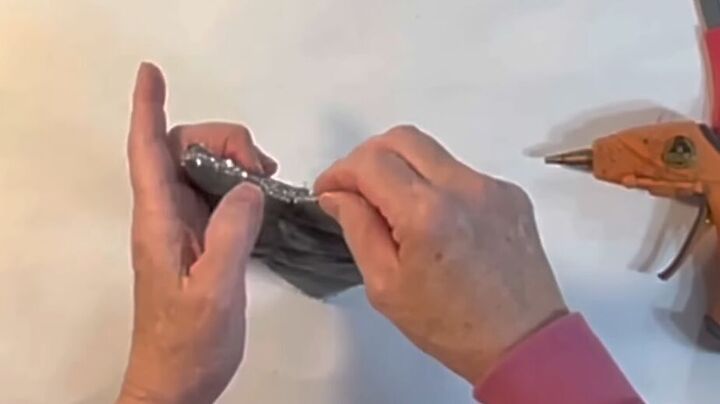 I hot glued silver pipe cleaner around the edges.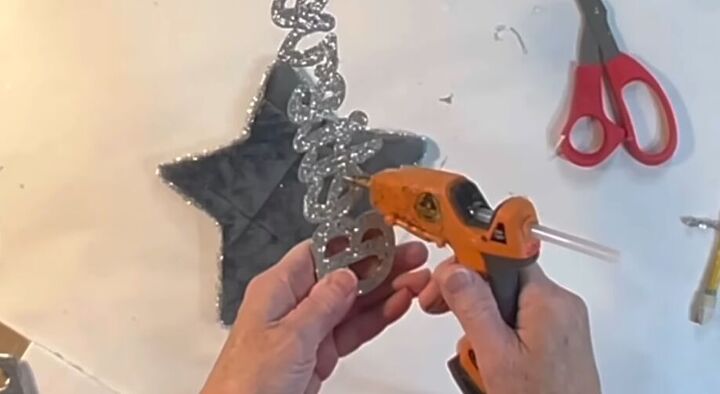 Finally, I hot glued on an old Christmas ornament that said, "Believe."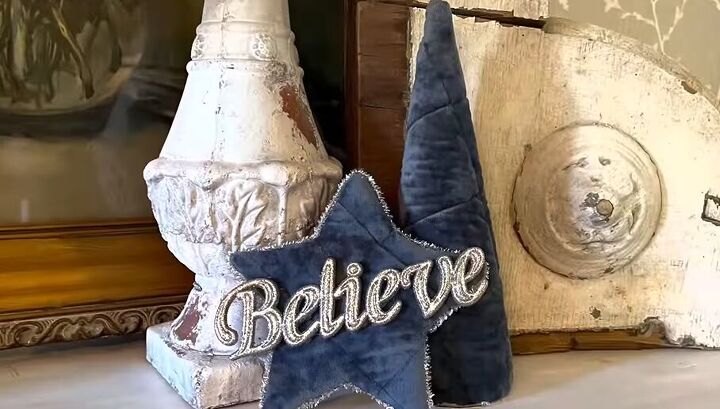 11. Cardstock Christmas tree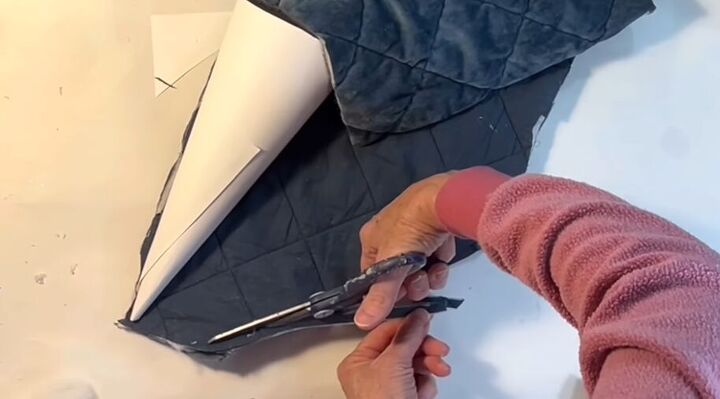 I made a cone out of cardstock paper. Then, I wrapped it in a velvet pillowcase, hot gluing it in place.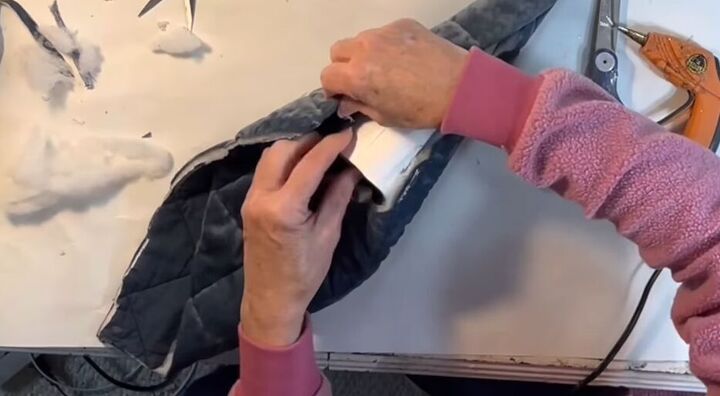 I folded the top edge of fabric and glued it.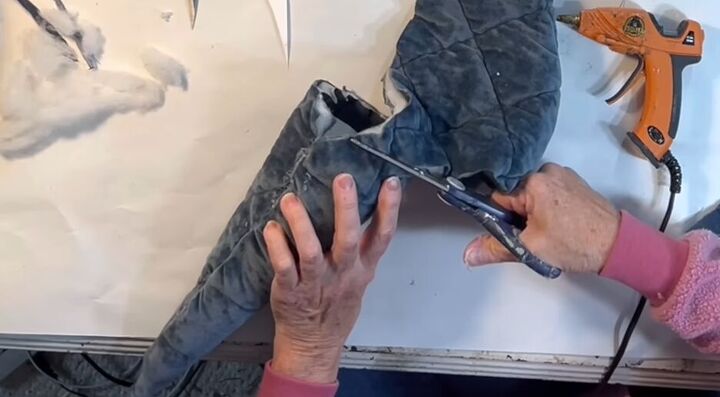 I cut away the extra fabric, tucked the rest inside, and secured it with hot glue.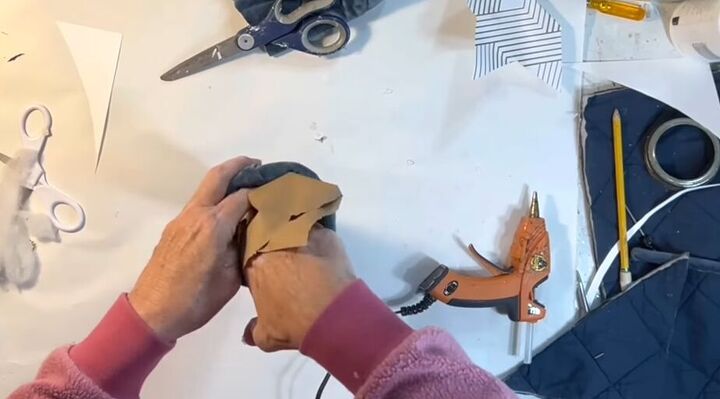 I stuffed the cone tightly with old packing paper and then glued cardboard to the bottom.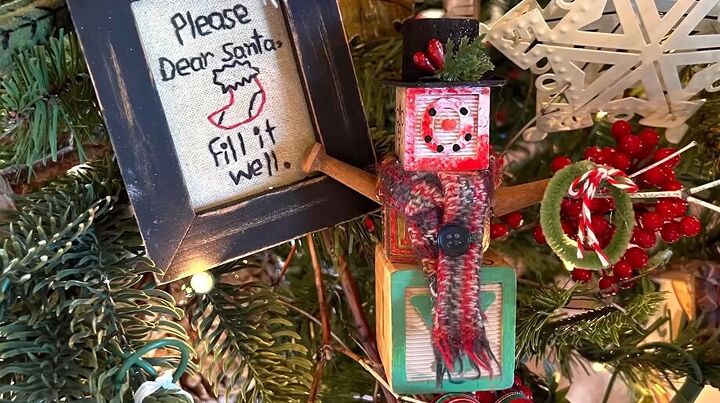 12. Alphabet block snowman ornament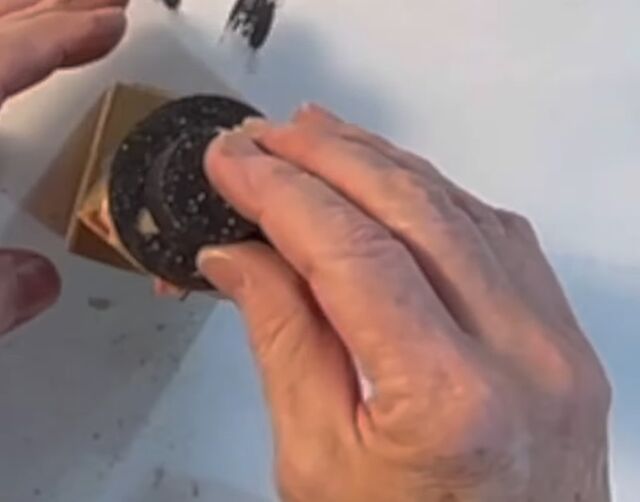 I wood glued three blocks together then hot glued a Styrofoam hat to the top.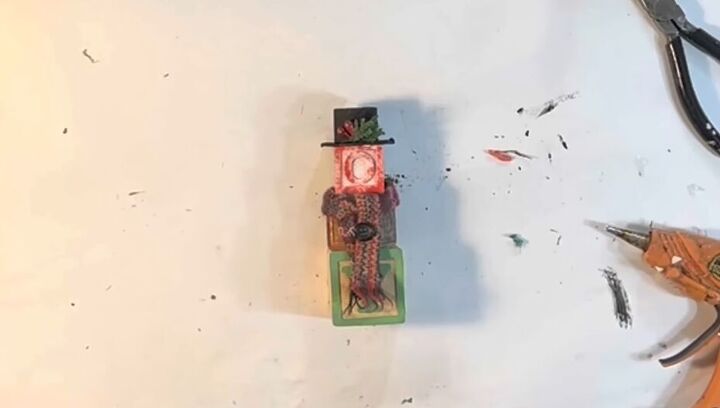 I cut a strip of fabric to create a scarf.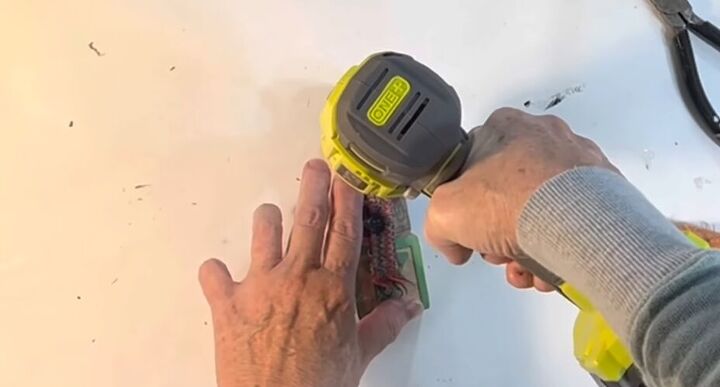 I drilled a small hole then glued on the carrot nose.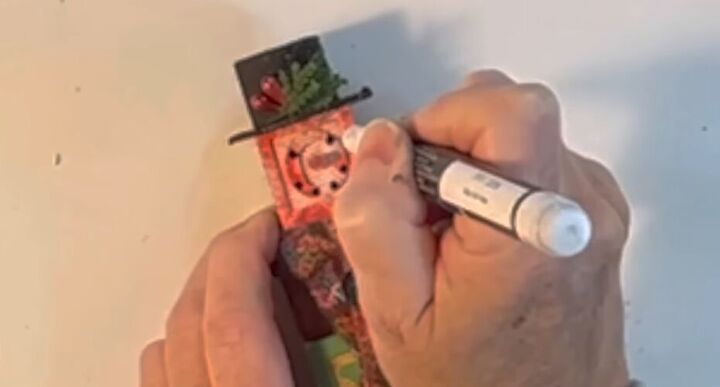 I used a paint pen to draw on eyes and a mouth.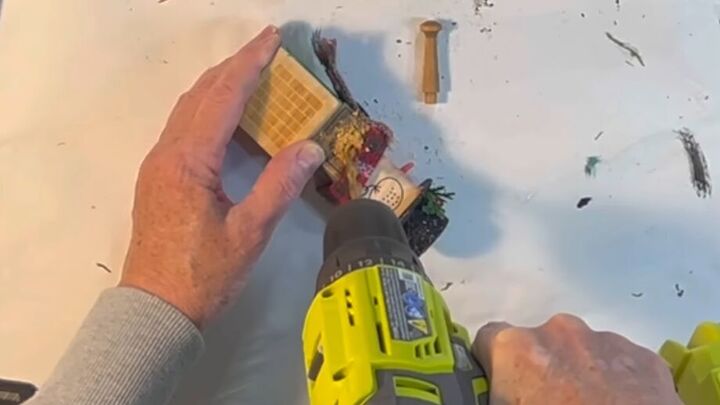 Then, I drilled a hole on each side of the middle block and glued in two small pegs for arms.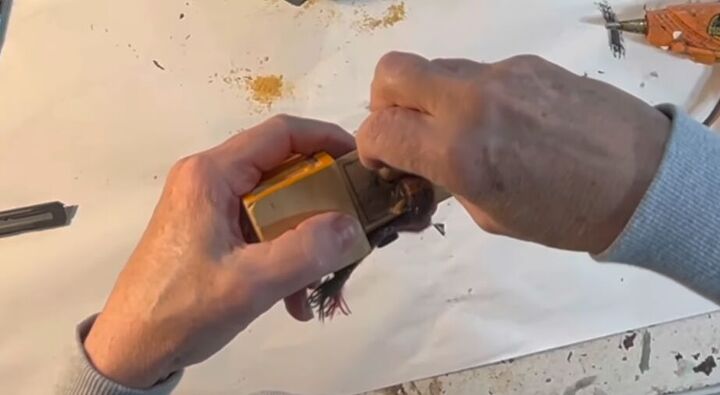 I glued a small pipe cleaner wreath to one of the arms.
Thrift store Christmas challenge
Which DIY Christmas decorations were your favorite on the list? Share your preferences down below.
Published November 16th, 2023 5:42 AM